Infrared Mirrors
REO utilizes single point diamond turning technology to produce aspheres, off-axis aspheres and toroidal mirrors for the infrared. Available in sizes up to 12 inches (300mm), these rotationally or non-rotationally symmetric aluminum or copper mirror substrates can be coated with metallic or dielectric reflective coatings. REO's state of the art testing and fabrication protocols ensure extremely accurate figure (surface form) for these precision optical components, with sag deviation accuracies as low as ½ fringe.
Diamond Turning
Single Point Diamond Turning is a technique for producing optical quality surfaces using a lathe configuration with a diamond-tipped tool. A primary advantage of this technique is the ability to produce complex aspheric surfaces efficiently. It is generally suited to metals and softer crystalline and amorphous optical materials such as ZnS, ZnSe, Ge, Si, and CaF2. The technique can be used to produce rotationally symmetric and off-axis aspheric optics, diffractive optics, and even non-rotationally symmetric optics such as cylinders.
Learn More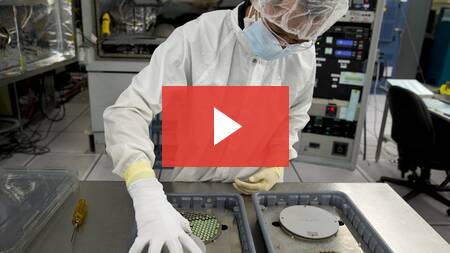 Thin Film Coating
Over 20 years ago, REO became the first company to commercially provide Ion Beam Sputtered (IBS) thin film coatings. Today, we have expanded our technology to produce the highest quality thin films performing a range of functions across the full optical spectrum from the deep UV (190nm) through the long wave IR (14um). With a total of 35 coating chambers in operation, REO's ability to produce the highest performance, lowest loss, most durable thin films across the spectrum is unmatched in the world.
Click to watch what REO coatings can do for you.
Learn More
Technologies
Our core production starts with optical polishing, includes super polishing, IBS coatings, broad focused metrology, including in house LDT and concludes with our active active assembly production. REO cutting edge technology enables the optimum manufacture of our products.
View All Technologies
Capabilities
Our team's experience and expertise spans optical fabrication, coating, testings, assembly, engineering, supply chain and project management.
View All Capabilities
Facilities
Our factory has been built and organized for optics, thin film coatings and assembly fabrication. Clean rooms, state of the art metrology and our laminar flow production areas for contamination controls are just the foundation of what we do to ensure excellence.
View All Facilities
Contact REO Today!
Call or fill out the form to have a REO representative contact you.


Call Now! 303.938.1960