Spatially Variable Coatings
REO has developed a unique, scalable technology for producing a wide variety of spatially variable thin films, such as those in which center wavelength, reflectivity, phase or slope varies with position on the component. These optical elements include:
Gaussian Mirrors
Variable Reflecting Mirrors or VRM
Super-Gaussian Mirrors
Bessel Mirrors
Parabel Mirrors
REO's proprietary technology used to manufacture these variable coated components enables us to cost effectively produce these types of coatings in high volume, as well as apply them to both miniaturized and large substrates. VariFi (TM) is one type of spatially variable coatings that REO fabricates.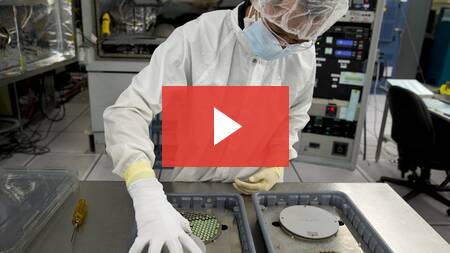 Thin Film Coating
Over 20 years ago, REO became the first company to commercially provide Ion Beam Sputtered (IBS) thin film coatings. Today, we have expanded our technology to produce the highest quality thin films performing a range of functions across the full optical spectrum from the deep UV (190nm) through the long wave IR (14um). With a total of 35 coating chambers in operation, REO's ability to produce the highest performance, lowest loss, most durable thin films across the spectrum is unmatched in the world.
Click to watch what REO coatings can do for you.
Learn More
Spectral Metrology/Laser Photometry
REO maintains an extensive set of lasers for metrology, covering more than 30 wavelengths and bands between 244nm and 10.6um. A range of standard and proprietary measurement techniques allows us to characterize reflectivity, transmission, polarization extinction, retardance and other functional characteristics across all angles of incidence.
Spectrophotometers, both dual-beam and FTIR, cover a wavelength range from 180nm to 20um, with a large number of fixtures to accommodate various sizes and geometries over the full range of incident angles.
Learn More
Technologies
Our core production starts with optical polishing, includes super polishing, IBS coatings, broad focused metrology, including in house LDT and concludes with our active active assembly production. REO cutting edge technology enables the optimum manufacture of our products.
View All Technologies
Capabilities
Our team's experience and expertise spans optical fabrication, coating, testings, assembly, engineering, supply chain and project management.
View All Capabilities
Facilities
Our factory has been built and organized for optics, thin film coatings and assembly fabrication. Clean rooms, state of the art metrology and our laminar flow production areas for contamination controls are just the foundation of what we do to ensure excellence.
View All Facilities
Contact REO Today!
Call or fill out the form to have a REO representative contact you.


Call Now! 303.938.1960