Beamsplitter Coatings
REO fabricates a wide array of beamsplitter coatings for operation in the ultraviolet, visible and infrared. We offer particular expertise in minimizing or controlling polarization bias, which is always a consideration in beamsplitters operating at high angles of incidence. We can also manage the relative phase of the reflected and transmitted beams, which is especially important in interferometric components, such as are commonly utilized in telecommunications applications.
Activated Covalent Bonding
Activated Covalent Bonding (ACB) technology, REO's proprietary adhesive-free method of bonding optical components, can be used to produce a wide array of monolithic visible and IR optical assemblies, such as cube beamsplitters, x-cubes, and beam combiners and separators. ACB delivers bond strength matching that of the bulk material, but unlike traditional gluing, introduces essentially no wavefront distortion, minimizes scatter and absorption. This bonding approach substantially improves component laser damage resistance and operational lifetime. It can also be used for applications at wavelengths where adhesives are not transmission.
Learn More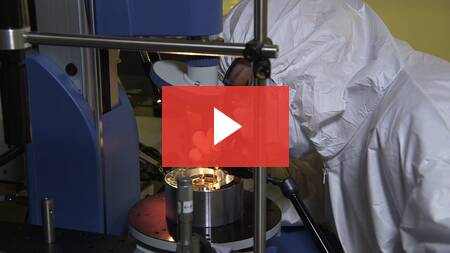 High Precision Prism Assemblies
REO's high precision prism assemblies utilize novel adhesive free Activated Covalent Bonding (ACB) to enable the construction of compact beam multiplexing systems. REO prism assemblies are distinguished by their low transmitted wavefront distortion values (as low as λ/10 at 633 nm), beam deviation tolerances in the arc second range, and even the capability for precise control of output beam phase relationships. These precision assemblies are available from numerous substrate materials for applications in the ultraviolet, visible, or infrared and in sizes ranging from 3 mm to 25.4 mm.
Learn More
Technologies
Our core production starts with optical polishing, includes super polishing, IBS coatings, broad focused metrology, including in house LDT and concludes with our active active assembly production. REO cutting edge technology enables the optimum manufacture of our products.
View All Technologies
Capabilities
Our team's experience and expertise spans optical fabrication, coating, testings, assembly, engineering, supply chain and project management.
View All Capabilities
Facilities
Our factory has been built and organized for optics, thin film coatings and assembly fabrication. Clean rooms, state of the art metrology and our laminar flow production areas for contamination controls are just the foundation of what we do to ensure excellence.
View All Facilities
Contact REO Today!
Call or fill out the form to have a REO representative contact you.


Call Now! 303.938.1960